COVID-19 Resources & Publications
Coronavirus disease 2019 (COVID‑19) is an infectious disease caused by severe acute respiratory syndrome coronavirus 2 (SARS-CoV-2). It was first identified in December 2019 in Wuhan, Hubei, China, and has resulted in an ongoing pandemic. The World Health Organization (WHO) has advocated for the development of coordinated intersectoral mechanisms to support the response to the COVID-19 pandemic. In line with this, FHIND has been at the forefront of promoting the prompt dissemination of information on COVID-19 to the populace particularly in Low Middle Income Country (LMIC) settings. FHIND has worked with Instrat Global Health Solutions to create the content for a tutorial App to train frontline health workers on COVID-19 which is available in Nigeria's three major dialects: Hausa, Igbo, and Yoruba.
Android phone showing the homepage of the Instrat COVID-19 Mobile Tutorial App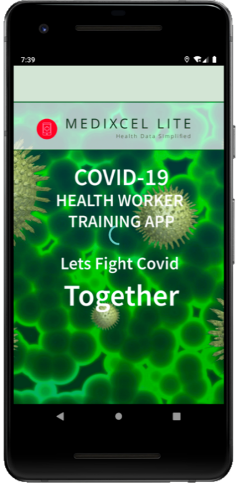 Android phone showing the homepage of the Instrat COVID-19 Mobile Tutorial App
FHIND has also worked closely with Prof John Walley (University of Leeds UK), InStrat and other relevant partners to put out relevant educational materials on COVID-19 to support the response to the COVID-19 pandemic. FHIND has been deeply involved in the publication of several peer-reviewed scientific articles on various aspects of COVID-19.
The Association between Out-of-Pocket Expenditure and COVID-19 Mortality Globally.
As the Coronavirus 2019 (COVID-19) pandemic evolves, its disproportionate impact on vulnerable and socially disadvantaged populations are becoming more pronounced [1,2]. These differences have been attributed to existing health disparities which have been traced back to economic inequality [3]. This is not an entirely new phenomenon as the influenza pandemic in 2009 disproportionately affected the poorest fifth of England's population [4] and death rates in some South American countries were up to 20 times higher than in Europe [5].
Mental Health and the COVID-19 Pandemic in Chile
With one of the highest testing rates of COVID-19 in Latin America, Chile continues to record low mortality rates from the disease. Several measures such as curfews, cancellation of large gatherings, and closure of schools and businesses have been implemented. Against the backdrop of high levels of alcohol/substance abuse, mental health disorders, and inequalities across Chile, it is likely that levels of stress and anxiety will peak during the COVID-19 pandemic. As key public health responses such as testing, contact tracing, isolation and management of confirmed cases of COVID-19 are being ramped up, it is expedient to prioritize measures to safeguard the mental health of Chileans.
Globalisation in the time of COVID-19: repositioning Africa to meet the immediate and remote challenges
The COVID-19 pandemic has ushered in a new climate of uncertainty which is fuelling protectionism and playing into nationalist narratives. Globalisation is under significant threat as governments scramble to reduce their vulnerability to the virus by limiting global trade and flows of people. With the imposition of border closures and strict migration measures, there have been major disruptions in Africa's global supply chains with adverse impacts on employment and poverty. 
Prevalence of IgG and IgM antibodies to SARS-CoV-2 among clinic staff and patients
The coronavirus disease 2019 (COVID-19) is now a pandemic with devastating social and economic consequences. The extent of the spread of COVID-19 within populations is uncertain since diagnostic tests have not been carried out on all eligible persons and doing such diagnostic tests on everyone is much less feasible in developing countries such as Nigeria. Tests for antibodies to SARS-CoV-2, the virus that causes COVID-19, are more affordable, readily available, and require minimal training than current diagnostic tests.
Primary care health worker deskguide in the context of COVID-19:
COVID-19 is a respiratory infection caused by a new virus, which crossed to people from a wild animal caught when sold in a live animal market. It is similar to the SARS virus of the 2003 epidemic also originating from wild animals/ live animal markets in China. The COVID-19 epidemic evolves rapidly from the initial few cases and their contacts, with cases doubling every 3 days and rapid spread within the community. Everyone is susceptible to infection.
The symptoms of COVID are fever, cough, difficult breathing etc. which are also the symptoms of other common infections. A COVID test takes days or is not available, so we need to treat the likely common infection AND manage as a possible COVID.
MANAGEMENT GUIDELINES FOR DISTRICT HOSPITALS DURING COVID-19
The COVID-19 epidemic evolved rapidly with the spread from the first few cases and their contacts to communities. Everyone is susceptible to infection and needs education about the virus. Symptoms in approximately 80% of the cases are mild with some asymptomatic, especially in children and young adults. Most people will not know they have the disease, and can spread it. Therefore social distancing or infection prevention measures they are important. Confirmed or suspected cases should isolate for 14 days. Only 15-20 % of cases may require treatment in the hospital. Some, especially elderly or those with chronic diseases may get very ill and require oxygen or ventilator support. 
Effective Implementation of Public Health and Social Measures in Nigeria:
Public health and social measures should respond to data about the growth of the epidemic and be implemented in a way that engages communities. Communities should be involved in helping to determine strategies for adapting measures to the local context, protecting livelihoods, and introducing appropriate relief measures to counteract the economic impact of these measures. The government should counter misinformation with appropriate risk communication and engage with communities to ensure voluntary adherence to COVID-19 response measures. 
Mental health and psychosocial well-being during the COVID-19 pandemic: the invisible elephant in the room
The novel SARS-CoV-2 coronavirus pandemic has emerged as a truly formidable threat to humankind's existence. In the wake of the massively volatile global situation created by COVID-19, it is vital to recognize that the trauma it causes can affect people in different ways, at the individual and collective levels, resulting in mental health challenges for many. 
COVID-19 in the Caribbean region: Indications of the gendered nature of outbreak
As national governments scramble to contain the novel coronavirus disease 2019 (COVID19), the Caribbean region has been affected later than other regions including Asia, Europe and Africa. As at 21st March 2020, twenty-four countries/territories in the Caribbean region have reported a total of 384 confirmed COVID-19 infections.
Can Nigeria contain the COVID-19 outbreak using lessons from recent epidemics?
The COVID-19 Risk Communication Package For Healthcare Facilities
On 30 January 2020, WHO declared the outbreak of a novel coronavirus (COVID-19) a Public Health Emergency of International Concern. Responding to COVID-19 requires critical preparedness and response which includes equipping healthcare workers (HCWs) and healthcare facility management with the information, procedures, and tools required to safely and effectively work. HCWs are playing a critical role in the COVID-19 outbreak response and are the backbone of a country's defences to limit or contain the spread of disease.
Ethnic and racial disparities in COVID- 19-related deaths: counting the trees, hiding the forest
As COVID-19 continues to sweep across the globe leaving thousands of victims in its wake, preliminary data from the USA suggest that minorities, especially black people, have been infected and killed at a disproportionate rate across the country.
Tackling COVID-19: Can the African continent play the long game?
Events have progressed with dizzying rapidity since the World Health Organization (WHO) was first alerted to cases of severe pneumonia in the Wuhan City of China on December 31st 2019. The novel SARS-CoV-2 coronavirus disease (COVID-19) was declared a pandemic on March 11th 2020.