Tackling non-communicable diseases in primary care facilities in Nigeria.
Project: Tackling non-communicable diseases in primary care facilities in Nigeria through clinical guidelines and m-health training strategies: Report of FMOH advocacy visit.
Date: 25th of June 2021
On the 25th of June 2021, FHIND representatives Dr.Emmanuel Effa and Dr. Oby Onwusaka paid a courtesy call/ familiarization visit to the National Co-coordinator (NC), NCD Division, Federal Ministry of Health, Abuja in the person of Dr. Oyinlola Sanni. Dr. Sanni had been appointed NC upon the retirement of the immediate past coordinator Dr. Ezeigwe. Also in attendance at the meeting was The Desk officer, Monitoring and Evaluation branch, NCD Division of the Federal Ministry of Health.
Following introductions, the FHIND team made a concise presentation to the National Coordinator on the Non Communicable Disease project which is funded by the UK National Institute for Health Research (NIHR) Global Health Research programme (project reference 16/136/100)/ NIHR Research Unit on Health in Situations of Fragility). The team also briefed the NC on the proposed next steps for the project which included state level and national level dissemination meetings as well as plans for scale-up of the project.
Dr Sanni expressed her profound delight at the visit as well as the briefing. She also expressed a few concerns regarding the scale-up plans including funding sources and increased work-load for health workers. She stated that the task shifting and task sharing policy review process which is required for a national level scale-up had started. When complete, community health extension workers (CHEWS) and health workers at primary health care (PHC) level would be empowered to provide the NCD services embodied by the project.
The FHIND team presented the project policy brief, NCD health workers' desk guide and treatment guide to the Ministry of Health which were received by Dr. Sanni and Mrs. Omoyele on behalf of the Minister for Health.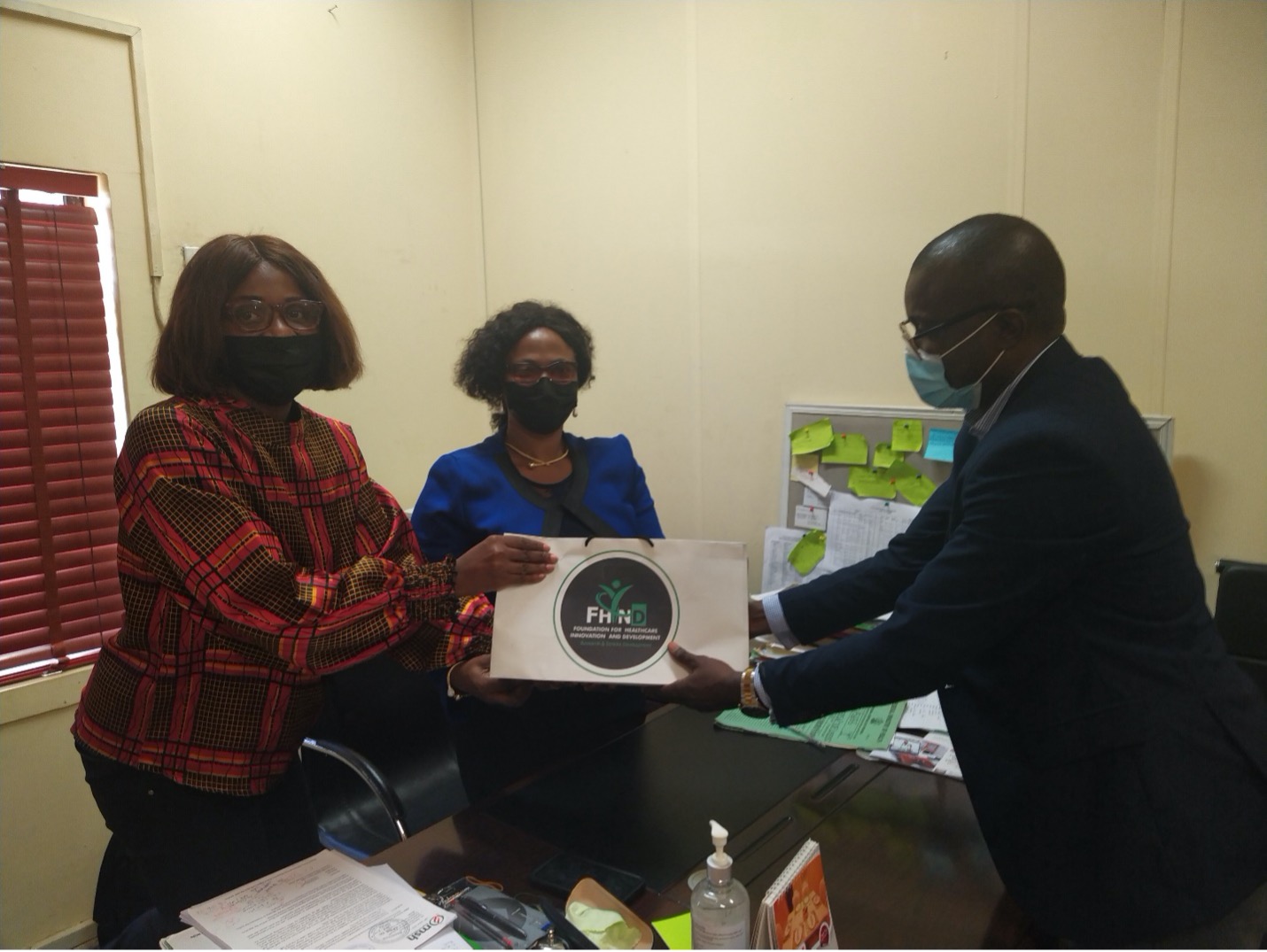 Dr. Emmanuel Effa (FHIND ) presenting the NCD policy brief and other project materials to the Natiional Coordinator , NCD Division FMOH Dr. Oyinlola Sanni and Mrs. Chiamaka Omoyele.
Photo credit : Dr. Oby Onwusaka (FHIND)