Tackling non-communicable diseases in primary care facilities Nigeria through clinical guidelines and mHealth training strategies.
FHIND project report: Tackling non-communicable diseases in primary care facilities Nigeria through clinical guidelines and mHealth training strategies.
To be completed by: November 2020
Background
The Federal Ministry of Health (FMoH) Nigeria noncommunicable disease (NCD) Division has begun the process to implement an adaptation of the World Health Organisation (WHO) Package for Essential Noncommunicable (PEN) disease interventions, as a PEN/COMDIS-HSD package of case management guidelines, training modules and tools for the nurses and other health workers in the primary health care centres (PHCs). They are supported by the World Health Organisation (WHO) country office and the Nuffield Centre, Leeds.
Aim
FHIND is proposing to work with other collaborators to provide the health workers with disease-specific information NCDs to increase their knowledge of how to manage these conditions effectively in resource-constrained settings.  We aim to pilot and add to the mhealth versions of the existing NCD package. In doing so we hope to evaluate the merits of this mHealth training within Nigeria's fragile health system. In particular, we will be seeking to develop a workable and sustainable approach to managing NCDs which can be scaled up across the nation. The ultimate goal is to boost the health system's capacity to cater for persons with NCDs in the wide ranging contexts across Nigeria including many remote and insecure areas. We hope to produce a sustainable and replicable care package for NCDs in Nigeria.   
Activities
Training workshop for primary health care (PHC) facility nurses in Cross River State (CRS)
A training workshop was organised for 23 nurses and one community health extension worker (CHEW) drawn from 19 PHC facilities in Cross River State. This training was provided on the 28th of February 2020 by FHIND in collaboration with Instrat and the Non-communicable Diseases (NCD) Division of the Federal Ministry of Health (FMoH) Nigeria.
The members of the team were:
Dr Akan Otu – FHIND
Dr Emmanuel Effa – FHIND
Mr Lawrence Ologidi- FMoH
Obiageli Onwusaka – FHIND
Mr Peter Yougha – Instrat
The participants were introduced to the NCD training package of care based on WHO PEN for the NCDs developed with the Federal Ministry of Health (FMoH/NCD) (http://comdis-hsd.leeds.ac.uk ). These materials include a deskguide, job aide, training modules and treatment card. Participants were trained on how to access these materials on their mobile phones. Several facilitation techniques were used by the trainers such as practical sessions, group discussions and case studies. All participants were expected to complete the 8 NCD modules over a 2-week period after which they were expected to utilise the information contained in the modules to screen and identify patients presenting with NCD to their various facilities.  Treatment cards were distributed and participants were instructed to provide monthly updates on a number of NCD cases seen in the various facilities. Theses PHCs/nurses are currently being followed up post-training to support implementation.
NCD meetings and Training of Trainers in Abuja
Between 9-11th March 2020, Drs John Walley and Emmanuel Effa of FHIND were involved in providing training of trainers (ToT) for the FMoH/NCD, partner NGOs and Federal Capital Territory (FCT) Abuja senior staff.  Meetings were held with projects leads to assist coordinated support for the FMoH and Cross River State NCD implementation. The meetings before, during and after the ToT included with the FMoH and WHO NCD:
Drs Nnenna Ezeigwe NCD Coordinator, Federal MoH Abuja, and more detailed discussions with Dr Malau Toma (CVD) and Amaka Omoyele NCD Monitoring & Evaluation Officer. Then also with Drs Rex Mpaznje (Coordinator Com & NCDs) and Mary Dewan (NCDs) of World Health Organization (WHO) office Nigeria.
At the FCT Abuja Health office and alongside the ToT with Dr Uwakmfon (NCDs), and in the ToT Dr Deborah in-charge PHC, Various supervisors/ doctors and nurses.
Also with Drs Christine and Agogo of Health Strategy and Delivery Foundation (HSDF) and 'Resolve to save lives' hypertension projects respectively.
At the FHI office with Drs Robert Chiegil (FHI West Africa), Hadiza Khamofu Deputy Chief of Party, and Bridget Nwagbara (Migrant health & until recently NCD consultant to the FMoH).
Drs John Walley and Emmanuel Effa with the FMoH/NCD and FCT colleagues facilitated the training of trainers (ToT), as per the schedule annexed.  The ToT followed the FMoH NCD care package and training on hypertension and diabetes modules.  This included participants doing case study role-plays to enhance their skills in the use of the case management desk guide. Also practising observing and providing supportive feedback. This augmented a previous ToT with these participants during 2019. 'Step-down' training of the FCT health facility staff depends on identifying funds (see also the meetings and findings).
A 40-minute video was filmed including a brief explanation of how the course is conducted, hypertension and diabetes care case study role-plays and supportive feedback.
Training in Cross River State
Drs John Walley and Emmanuel Effa of FHIND visited 6 PHCs in Cross Rivers State to interview the trained nurse, the in-charge, observe the facility NCD related activity and treatment cards. In brief, they had started to see a few hypertension patients (not yet other NCDs) and correctly filled out the treatment cards. But this was as an individual activity by the NCD trained nurse.
The team discussed with the PHC staff about how best to better add the NCD screening, education and follow-up care operations e.g. the best use of staff, consultation rooms and patient flow. Learning on implementation issues which have now been written into an additional training module e.g. about task-shifting to CHEWs the screening and the more detailed lifestyle counselling as appropriate in their PHC. Majority of the trained nurses have now taken the module.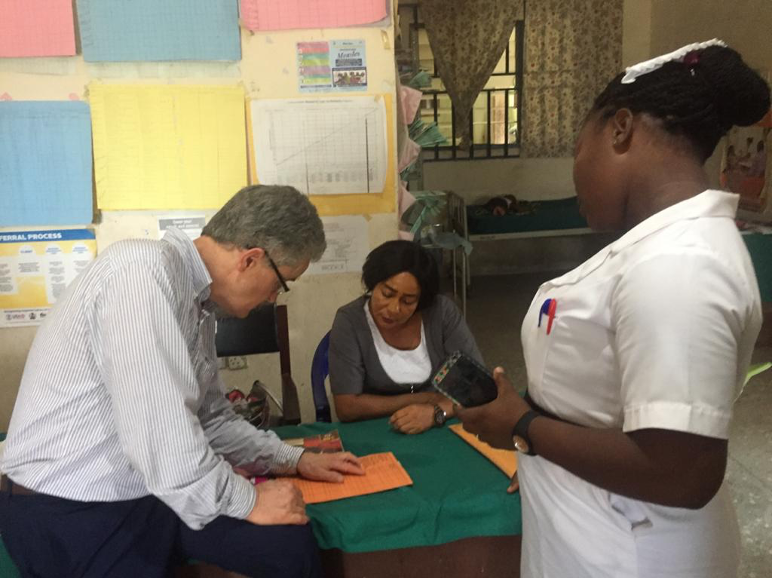 In April and May 2020, supervisory visits were made to the remaining 13 PHCs. During the course of the visits, an additional facility was included (PHC Nkarasi) as one of the trained nurses had been transferred there.  Hence, the project now involves 20 PHC facilities including a health post, health centres, clinics and Comprehensive Health Centres and one local government PHC office.
Issues identified during the supervisory visits included:
Shortage of manpower. Some of the staff asked for incentives to be given to them since the inclusion of NCD management into their scope of duties increased their workload without any commensurate increase in their salaries.
Lack of basic medical equipment. Most of the facilities had to be provided with glucometers, blood glucose testing strips. sphygmomanometers and in one case a weighing scale.
Socioeconomic status of patients/ cost of services at the PHC. Almost all the facilities visited requested for free drugs to be provided for the patients as many of the clients were unable to afford basic medications.
The ripple effects of the Covid-19 pandemic. Although Cross River state was yet to record any confirmed case of Covid-19 at the time of the visits, most of the facilities complained of low patronage due to the pandemic.

(b) Production of reports/publications

Monthly progress reports will be provided to QMU. A scientific publication will be submitted to a reputable peer-reviewed journal at the end of the fieldwork.

 

(c) Evidence of impact and policy engagement

We have been able to engage key policymakers in the course of rolling out this project. These include the FMoH Abuja, the Cross River State MoH, the Cross River State Primary Healthcare Development Agency, The World Health Organization office Nigeria, 'Resolve to save lives' Hypertension project, Family Health International West Africa, Migrant Health. We have successfully introduced the project in Cross River State and appear set to achieve our project objectives.